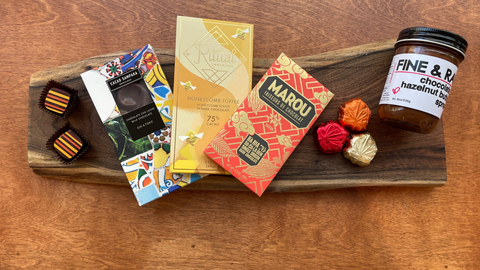 Each Peach Market
Every Occasion Gift Basket
Know someone who needs a little bit of love? This custom gift basket is flexible to suit you, whether you want to celebrate, need to say "Thank you", "I'm sorry", or simply want to send something extra-customized.Just let us know what the occasion is, and leave a few extra tips so we can create a custom basket from our Each Peach treasure trove. You can be as specific as "gluten free" , "no alcohol" or "all American products" or as general as "sympathy basket" or "wedding celebration." We're here to help.
Please note, specific contents are chosen due to availability, seasonality and your needs - what is pictured may not be what is sent. Rest assured, everything will be delicious.
Please order at least 48 hours in advance of when you need your basket ready!
Local delivery within 10 miles available at $15. National delivery available, but please note it will arrive in a cute box, not a basket.
Want something extra customized and couture? Looking to place a large order? Get in touch! Email 
info@eachpeachmarket.com