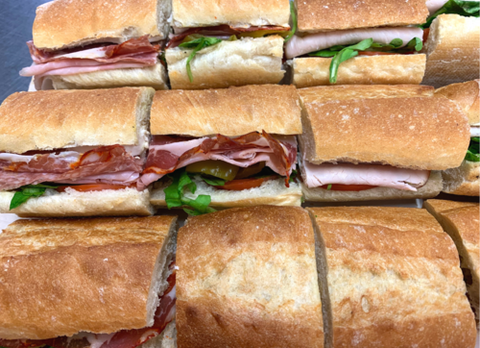 Each Peach Market
Each Peach Sandwich Platter
Make your next gathering even better with an Each Peach sandwich platter! Choose from three options.
Each Peach Favorites: A mix of our most popular sandwiches. Featuring The Dude, The Newton and The Buscemi.
All Vegetarian: The Donny, The Buscemi, Tofu Banh Mi
Meat Lovers: The Dude, Rock Creek Pork, The Newton
Platter sandwiches are not pressed and come cold. Each platter comes with 15 assorted assorted mini sandwiches and serves 6-8 people. If you need more, please email us at info@eachpeachmarket.com.
Please order 48 hours in advance of when you need your platter ready!
$15 Local Delivery available within 10 miles (minimum $50 spend required). National Delivery unavailable.
Don't see the size you're looking for, looking to place a large order, outside our 10 mile radius or just have a question? Get in touch with us: info@eachpeachmarket.com